The Delicate Process Begins
It was fitting that the delicate process of revitalizing the Knights of Pythias Greenwood Cemetery would begin not with the roar of diesel engines but with solemn prayer.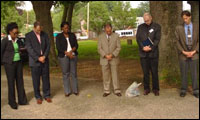 PrayerPrior to the start site work on a densely overgrown section of burials, a contingent of clergy that included CTCA Chaplains the Rev.. Luis Centeno, the Rev. Robin Childs and the Wendell Scanterbury, accompanied by local Imam Fathy and the Rev. John Large, of Mater Dolorosa, blessed the sacred ground, honoring and remembering its inhabitants. Also in attendance were officials of Cancer Treatment Centers of American Eastern Regional Medical Center and its affiliate, Greenwood Holdings. The project is being managed by Louis Berger, Inc., under the directiion of Roderick Brown, Director of its Archaeological Services Division.
The ceremony underscored the abiding respect the entire project team has for the 44-acre property, its historical significance, and the task. When completed over a period of nearly one year, about 2,000 burials will have been painstakingly transitioned to a newly-constructed, easily identifiable and accessible section of the cemetery.