Reflections
ROD BROWN, PRINCIPAL ARCHEOLOGIST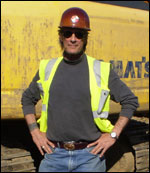 Roderick S. (Rod) brown is living the dream of every kid who watched wide eyed every swashbuckling Indiana Jones movie.
Informal and gregarious, his formal title is Principal Archaeologist for The Louis Berger Group, Inc., the world-renowned engineering firm that was selected to direct every meticulous phase of the highly complex Greenwood burial relocation project. He welcomed the challenge, instantly recognizing the importance of the undertaking to the descendants of those interned in the cemetery and to the surrounding community.
"I knew this was going to be a significant challenge, and I was concerned about invasive vegetation and ground water issues, among other things, but that's what we're all about: understanding problems and solving them to everyone's satisfaction," he explained. "As for the community, it has been very supportive as have the families who have come out to visit during the project to make sure everything has been done in a proper and respectful fashion."
Based on his observations, Rod says there is no question that the historic cemetery – which resembled more junkyard than sacred ground upon his first visit – was a victim of abuse over many years.
"You can't turn back the clock, but we've done the next best thing and that is to restore respect and dignity through the project," he explains. "It's the right and decent thing to do and the new owners deserve a lot of credit for making this happen."
Rod, through one extreme (near-record rainfall) to another (record snowfall), has supervised the day-to-day field work, managing daily upwards of 40 highly-trained archaeologists as well as heavy-equipment operators. The tools of his trade range from tiny, fine-bristle toothbrushes to enormous front-end loaders.
Looking back over the project as it nears completion, Rod could not be more proud of the work his team has performed in relocating to new, accessible and newly-marked locations within the cemetery, more than 2,000 burials. While he is quick to credit his team of professional archaeologists and skilled equipment operators for a job well done, their precision is a tribute to his extraordinary experience and leadership.
Rod, a veteran of the U.S. Navy submarine service (USS Trigger and USS Henry Clay), has seen much of the planet – above and below the surface. A graduate of Cal State Long Beach with a master's degree in quantitative archaeology, he has been a practicing archaeologist for more than 40 years. Before joining Berger 10 years ago, he held a number of key archaeology positions, including serving as Deputy Historic Preservation Officer for American Samoa.
So how did he get into the business?
"You might say archaeology was a labor a love," he explains, joking that his foray into the field was going on a date – which was actually a pre-historic dig.
And what's next after Greenwood?
"I don't know," he says, with a smile. "But I want to be somewhere warm for a while."