Restoration Contractor Named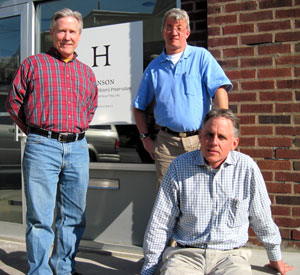 Philadelphia-based Hanson General Contracting to lead restoration
PHILADELPHIA, Pa. (April 20, 2010) – Philadelphia-based Hanson General Contracting, Inc., is directing the total structural restoration of the Greenwood Estate at Rush Farm, on the grounds of historic Knights of Pythias Greenwood Cemetery (930 Adams Avenue), and the official project groundbreaking is scheduled for 10 a.m., Friday, April 30, organizers announced today.
"Hanson was selected among five outstanding contractors mainly based on their feel for this type of unique project and their exceptional track record working on other highly significant structures," explains Michelle Mardenborough, President of the non-profit cemetery board. "Working in conjunction with Ewing Cole, our talented preservation architect, and the entire revitalization team, we know Hanson will present us with a remarkable residence as it would have appeared in the mid 1800′s."
John Hanson, President of HGC Inc, says not only is the house being rebuilt in fine detail to the period of significance, 1830 -1850, as approved by the Philadelphia Historic Commission, but that it is being built with a modern eye toward renewable and sustainable construction principles.
"This exciting project explores the opportunities that exist at the intersection between historic preservation and sustainability. One of the primary goals is to combine the principles of conservation and re-use with the goal of high energy efficiency". A wide range of materials will be salvaged and re-used, new historically accurate windows will be fabricated with insulating glass panels, and spray-foam insulation will be retrofitted where possible to tighten the building envelope. Additionally, a high efficiency HVAC system will be installed to minimize energy consumption.
The environmental focus in the house reconstruction is fitting and ironic since the cemetery property once served as an illegal dump site. During extensive site work, contractors removed tons of discarded cars, household appliances, and other household and industrial castoffs.
Joanne Clare, General Director of Friends of Greenwood and a cemetery board member said the selection of Hanson comes on the heels of the house naming and mission-statement development. "After years of decay and disrepair, this old house is seeing unprecedented momentum and the energy is fabulous. The groundbreaking on April 30 will be a milestone for the residence and the entire community," she explained.
The naming of the residence capped a process by which an advisory group, including cemetery officials, volunteers, and community leaders, paid tribute to the rich heritage of the grounds as working cemetery and its relationship to Founding Father Benjamin Rush, who owned much of the site for about a decade in the 1700s. For further information, including details on the April 30 groundbreaking, visit www.kpgreenwoodcemetery.org
About Hanson General Contracting, Inc.
HGC Inc., established in 1987, is an independent, family-operated general contractor specializing in fine historic restoration and sustainable design of significant structures in the greater Philadelphia area. The Firm's award-winning work includes assignments at landmarks such as Andalusia, Vesper and Undine Barge Club crew houses along Boat House Row, Bartram's Gardens, and the Glenn Foerd Mansion. Active members of the U.S. Green Building Council and the Greater Philadelphia Preservation Alliance, the Firm through all phases of project management is dedicated to maximizing the use of existing site materials and incorporating advanced energy-efficient technologies.
Contact: Stephan Rosenfeld – for Greenwood (215-514-4101), steph@idadvisors.com