A New Name and a New Mission For Historic House, Welcome "Greenwood Estate At Rush Farm"
PHILADELPHIA, Pa. (February 4, 2010) – The "cemetery house" has a new name and a new, community-focused mission as a result of the efforts of a group of concerned and passionate people who are making a difference in the revitalization of Knights of Pythias Greenwood Cemetery.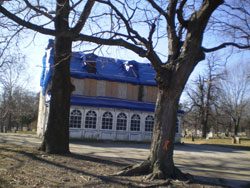 First, the new name: Greenwood Estate at Rush Farm. Greenwood Cemetery's Preservation & Safety Committee considered numerous options, seeking to blend the best of the cemetery's rich heritage as Greenwood Cemetery with the iconic relationship to Founding Father Benjamin Rush, who owned much of the site for about a decade in the 1700s.
"It was important that that the historic house have a new name and a new identity that our community could be proud of," explains Michelle Mardenborough, President of the cemetery board. "We are thankful to everyone for their ideas and support in developing the new name for this wonderful structure."
Of course, creating the name was only half the challenge because, naturally, there is curiosity about the function of the old house with a new lease on life once it has been refurbished. And that is where the Mission Statement comes into play.
The advisors – with the help of Tom Keels, noted local historian and author, – focused on developing a practical, community-focused mission that would do justice to the once and future grand structure.
The new mission is simply presented as:
Greenwood Estate at Rush Farm is the historic house within the non-profit Knights of Pythias Greenwood Cemetery located in the Northwood neighborhood of Philadelphia. Situated on land once owned by Founding Father Dr. Benjamin Rush (1745-1813), the early 19th century farmhouse has served for generations at the heart of a working cemetery serving the community. Joining past to present, the mission of Greenwood Estate at Rush Farm is to serve as a welcoming historical, cultural, and educational resource.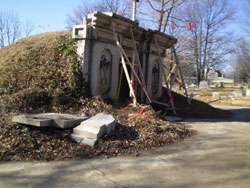 The new name and new mission are just some of the fruits of a busy and productive winter regarding the exciting project. The House is protected from the weather and construction/restoration bids are being reviewed.
Masonry and iron work contracts have been awarded and that phase of the project involving the perimeter walls and gate/ fencing will begin as soon as weather permits.
And soon the last of the formerly inaccessible burials will be relocated within the cemetery property, bringing to a successful conclusion a major – and delicate – archaeological and engineering endeavor.
"Work will also begin soon on the grounds so they can once again realistically evoke a working rural cemetery, dignify its "residents", and function as a safe and beautiful place to visit, Friends of Greenwood Cemetery is very impressed with the partnership of all those involved ," says Joanne Clare, Chief Director of Friends of Greenwood.
We are grateful to everyone – to many to name in this limited space – who has been involved to date and we encourage and welcome new volunteers to join the experience. For information on how to volunteer contact Friends of Greenwood at friendsofgreenwood@verizon.net