Introducing the Impeccably Restored Historic Greenwood Estate at Rush Farm
PHILADELPHIA, Pa. (January 20, 2010) – If any of the makeover reality TV show producers are looking for their next success-story subject, they would be wise to take a hard look at Greenwood Estate at Rush Farm. It is the quintessential American makeover; going from near-collapse to impeccably restored grandeur in just eight months.
Philadelphia-based Hanson General Contracting, Inc. served as general contractor on this labor-of-love project. Members of its team recently participated in a pre-grand opening tour (hosted by Philadelphia Healthcare Properties) at the residence within the Knights of Pythias Greenwood Cemetery (930 Adams Avenue). The before and after are nothing short of astonishing.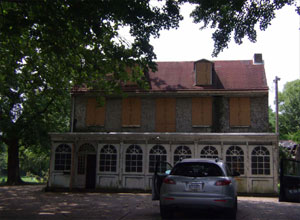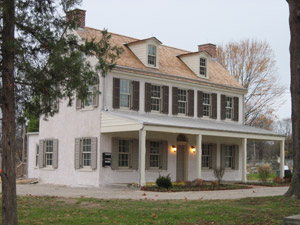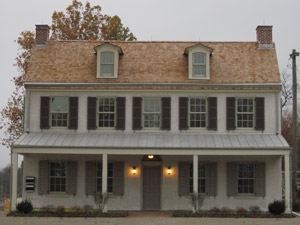 John Hanson, HGC's President, said in his 25 years involved in historic restoration he has never seen a structure go from such a deplorable state ("teetering on the brink of collapse") to one so warm, welcoming, and true to its historic heritage. "Every aspect of the restoration was carefully handled and we were able to re-use and/or restore almost every element from the original structure that could be salvaged, including several interior doors and locksets. Porch columns were re-used and one porch beam was re-purposed for structural support in the basement, "he explained. All 33 windows were replaced with custom, period-appropriate and energy-efficient units.
As noted on the tour, which included Pennsylvania Rep. Anthony Payton, the artisans working on the project were even able to restore the early 19th century hand forged steel and brass rim lock on one of the interior doors. The same locksmith was also able to provide another lock of the same vintage for the new front door.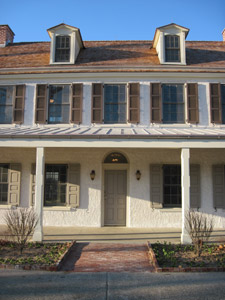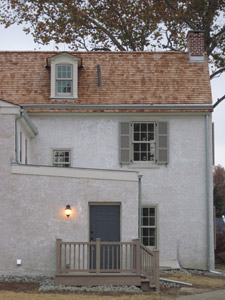 Michelle Mardenborough, President of the non-profit cemetery board, said after the visit, to the restored residence, "This is a Cinderella story; it's a very, very beautiful dwelling that is the jewel of the community."
Joanne Clare, Chief Director of Friends of Greenwood and a cemetery board member, said after the tour, "It is like a dream come true and now we turn our attention to putting the residence to good use as an asset of the cemetery and the community. I'm just so impressed with the workmanship at every level and the attention to detail. Walking through the house now you get a feel for what it must have been like in the mid 19th century; only now there are some of the creature comforts of the 21st century."